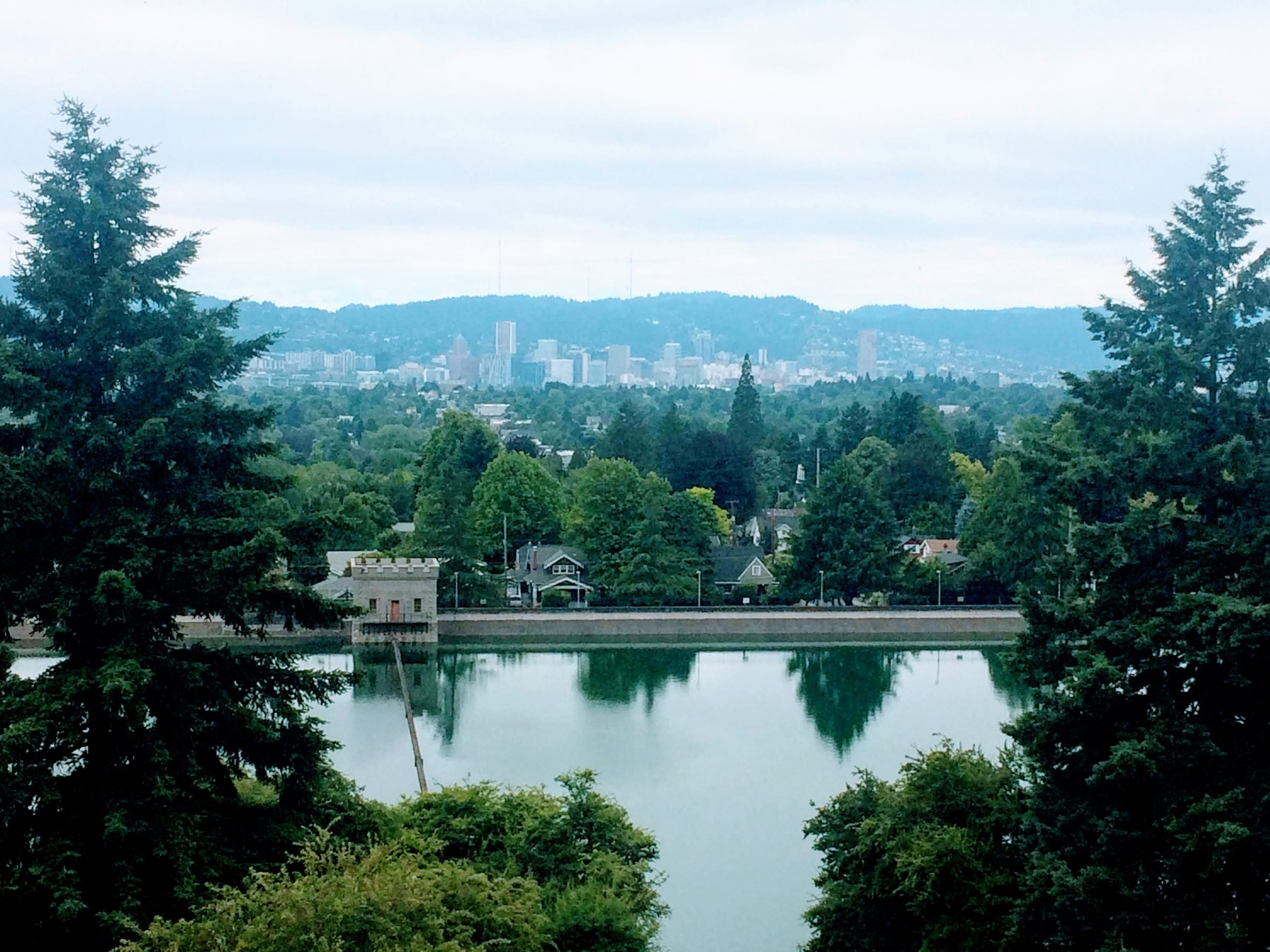 Photo of views from Mt. Tabor by Sarah Ardin
If you have followed my blog, you know that I love to walk in my neighborhood—or really in any Portland neighborhood.  But occasionally I will drive to walk elsewhere.  There are a couple of urban walks I like to do, but often if I am going to drive to get somewhere, I want a little more nature.  This blog post is not meant to be a complete walking guide for Portland.  In fact, there are so many great places to walk in this city that I would need an entire book to catalogue them.  I won't be writing that one, but I am sure you can find a great book at Powell's.  So for now, here are a few of my most common walks:
Powell Butte
Powell Butte is a bit on the outskirts heading toward Gresham.  But it is worth the distance.  The walk takes you up to a high grassy hilltop with few trees and excellent views on a clear day.  A stone structure points to each of the mountains that can be seen in the distance.   But what I love about Powell Butte is that you can also go down from the barren hilltop to a forested area where you can cool off in the summer or shelter from the rain in the winter.  Mountain bikers come here too, so watch for them tearing down the paths in the forest area.  Powell Butte Nature Park
Mt. Tabor
Mt. Tabor sits right in the center of East Portland.  You can take public transit to get there or ride a bike from anywhere on the east side.  Mt. Tabor, an extinct volcano, has several reservoirs and beautiful views of the city. There are wide paved paths as well as sets of steep stairs and many side dirt paths.  It even hosts a huge dog park that is out of the way enough that some people do not even know it exists there!   Mt. Tabor has playgrounds in the shade and sunny grassy areas that are great places to throw down a blanket and stay awhile—after you walk. Mt. Tabor Park
Oaks Bottom
Oaks Bottom Wildlife Refuge is a 163-acre piece of land that borders the Willamette River.  I like to access it on Milwaukie Avenue, just north of Westmoreland.  The small parking lot leads onto a paved path that takes you into the refuge.  The paths are mostly heavily wooded, though beautiful wetlands and meadows make up a large portion of this park. There are a few different directions to take here and you may end up on the Spring Water Corridor.  That is not a bad place to be, but if you want to avoid bikes, search out the dirt paths that go along the river.  As much as I love this park, I don't often walk here alone.  Parts of it are rather secluded and being female, I feel a little vulnerable—though maybe I just listen to too many crime podcasts and read too many murder mysteries!  I particularly love this walk on a rainy day.  Oaks Bottom Wildlife Refuge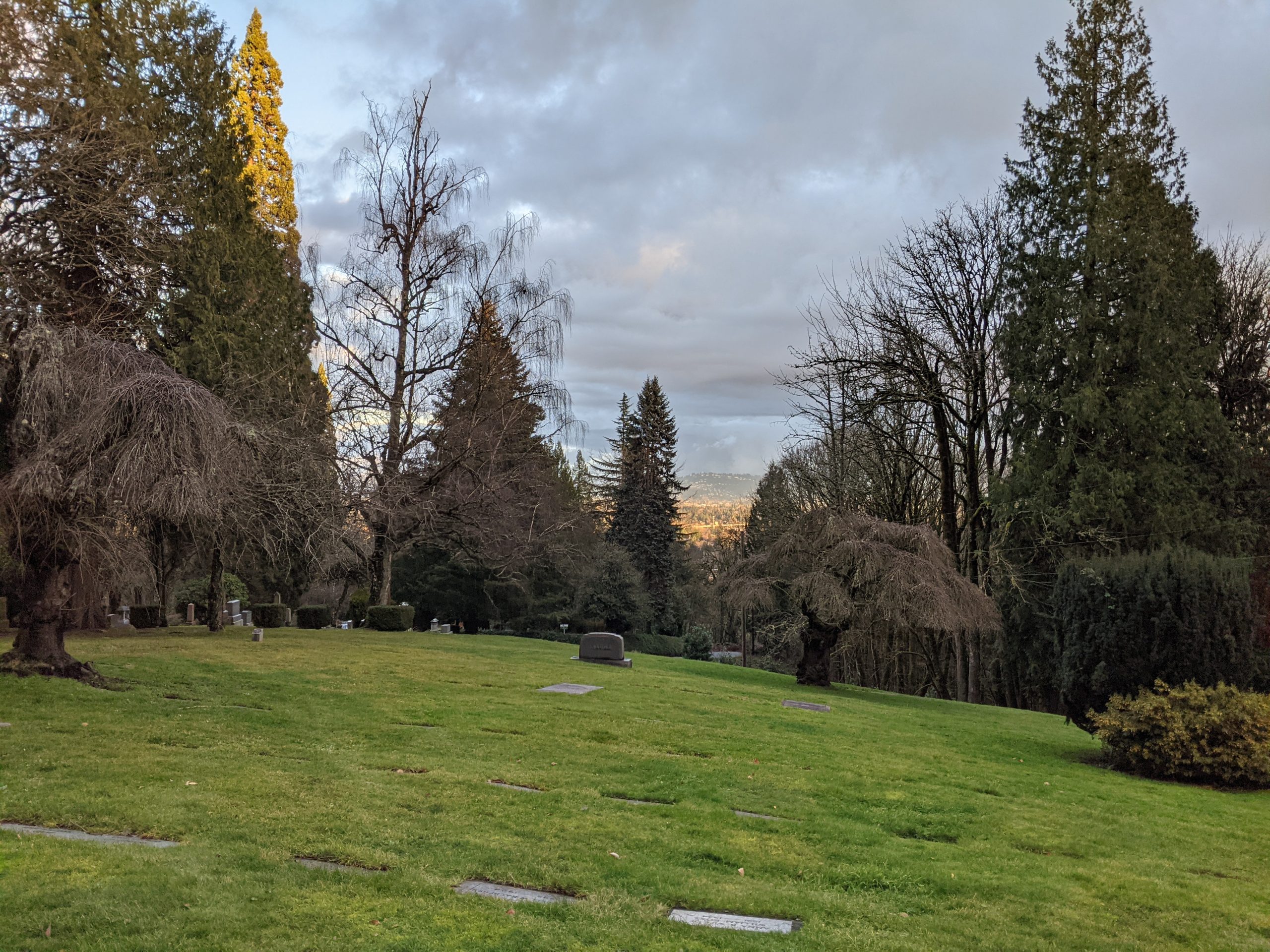 River View Cemetery
I am not a particularly morbid person and I think cemeteries in general are a waste of space.  This, however, is a beautiful spot that is popular with walkers and bikers alike.  I am assuming that bikers are on a longer ride that cuts through the cemetery, but the grounds are sufficient for an hour or so of walking.  This is not your typical cemetery.  It is anything but flat and barren.  It is steeply sloped with large trees that shade the paved paths.  Cars are allowed, but on most walks, I only encounter one or two.  At the top of this steep climb, there are brilliant views of the eastside of Portland and on a clear day, you can see Mt. Hood.
There are so many more fabulous walks in Portland and you may have noticed that all of mine (except for the River View Cemetery, which is just across the Sellwood bridge) are in Southeast.  To which I say, of course that is where I go to walk, that is where I live.  Southeast has so much to offer, I just never really feel the need to leave!  But if you live in other parts of town and love to venture out, write to me about your favorite walks and I will include them in another blog.